Maps and Directions
Navigating Gallaudet's Campus
Continuous Gallaudet Shuttle Schedule
NoMa-
GALLAUDET U
UNION
STATION
MSSD
KDES
BENSON
GUKCH
6:22 am
6:30 am
6:37 am
6:39 am
6:40 am
6:47 am
6:37 am
6:45 am
6:52 am
6:54 am
6:55 am
7:03 am
6:52 am
7:00 am
7:07 am
7:09 am
7:10 am
7:17 am
7:07 am
7:15 am
7:22 am
7:24 am
7:25 am
7:33 am
7:22 am
7:30 am
7:37 am
7:39 am
7:40 am
7:47 am
7:37 am
7:45 am
7:52 am
7:54 am
7:55 am
8:03 am
7:52 am
8:00 am
8:07 am
8:09 am
8:10 am
8:17 am
8:07 am
8:15 am
8:22 am
8:24 am
8:25 am
8:33 am
8:22 am
8:30 am
8:37 am
8:39 am
8:40 am
8:47 am
8:37 am
8:45 am
8:52 am
8:54 am
8:55 am
9:03 am
8:52 am
9:00 am
9:07 am
9:09 am
9:10 am
9:17 am
9:07 am
9:15 am
9:22 am
9:30 am
9:37 am
9:39 am
9:40 am
9:47 am
9:52 am
10:00 am
10:07 am
10:09 am
10:10 am
10:17 am
10:22 am
10:30 am
10:37 am
10:39 am
10:40 am
10:47 am
10:52 am
11:00 am
11:07 am
11:09 am
11:10 am
11:17 am
11:22 am
11:30 am
11:30 am
11:32 am
11:33 am
11:40 am
11:45 am
11:50 am
12:00 noon
12:02 pm
12:03 pm
12:10 pm
12:14 pm
12:20 pm
12:30 pm
12:32 pm
12:33 pm
12:40 pm
12:44 pm
12:50 pm
1:00 pm
1:02 pm
1:03 pm
1:10 pm
1:14 pm
1:20 pm
1:30 pm
1:32 pm
1:33 pm
1:40 pm
1:44 pm
1:50 pm
2:00 pm
2:02 pm
2:03 pm
2:10 pm
2:14 pm
2:20 pm
2:30 pm
2:32 pm
2:33 pm
2:40 pm
2:44 pm
2:50 pm
3:00 pm
3:02 pm
3:03 pm
3:07 pm
3:12 pm
3:20 pm
3:15 pm
3:17 pm
3:18 pm
3:23 pm
3:28 pm
3:33 pm
3:30 pm
3:32 pm
3:33 pm
3:37 pm
3:42 pm
3:50 pm
3:45 pm
3:47 pm
3:48 pm
3:53 pm
3:58 pm
4:03 pm
4:00 pm
4:02 pm
4:03 pm
4:07 pm
4:12 pm
4:20 pm
4:15 pm
4:17 pm
4:18 pm
4:23 pm
4:28 pm
4:33 pm
4:30 pm
4:32 pm
4:33 pm
4:37 pm
4:42 pm
4:50 pm
4:45 pm
4:47 pm
4:48 pm
4:53 pm
4:58 pm
5:03 pm
5:00 pm
5:02 pm
5:03 pm
5:07 pm
5:12 pm
5:20 pm
5:15 pm
5:17 pm
5:18 pm
5:23 pm
5:28 pm
5:33 pm
5:30 pm
5:32 pm
5:33 pm
5:37 pm
5:42 pm
5:50 pm
5:45 pm
5:47 pm
5:48 pm
5:53 pm
5:58 pm
6:03 pm
6:13 pm
6:15 pm
6:16 pm
6:21 pm
6:26 pm
6:31 pm
6:41 pm
6:43 pm
6:44 pm
6:49 pm
6:54 pm
7:01 pm
7:11 pm
7:13 pm
7:14 pm
7:19 pm
7:24 pm
7:30 pm
7:00 pm
7:01 pm
7:02 pm
7:05 pm
7:10 pm
7:15 pm
7:22 pm
7:23 pm
7:24 pm
7:30 pm
7:35 pm
7:45 pm
7:52 pm
7:53 pm
7:54 pm
8:00 pm
8:04 pm
8:15 pm
8:22 pm
8:23 pm
8:25 pm
8:30 pm
8:34 pm
8:45 pm
8:52 pm
8:53 pm
8:55 pm
9:00 pm
9:04 pm
9:15 pm
9:22 pm
9:23 pm
9:25 pm
9:30 pm
9:34 pm
9:45 pm
Shaded areas represent 2 buses on route during peak hours



Parking on Campus
Visitor Parking is available at:
6th Street Garage
Overflow Parking (when available)
Enter through the 8th Street front gate and stop at the kiosk for instructions
Note: Permits required at all times in 6th Street Garage and Overflow Parking unless announced otherwise by DPS.
Daily
$3
Weekly
$5
Summer Programs
$20
In unusual circumstances, DPS
may authorize a special fee.
Fees for parking on campus are as follows:

Temporary parking permits may be obtained from the Department of Public Safety and may be paid by cash, check, or credit card. Parking is at no charge for guests between the hours of 5 p.m. and 7:30 a.m.; however, vehicles must be registered with DPS. Temporary parking passes must be displayed in the window of the vehicle.
Directions and maps to get to Gallaudet via Public Transportation
DC Metro Map
(Gallaudet Shuttle can be accessed at the NoMa-Gallaudet stop as well as the Union Station stop, both on the Red Line)
DC City Bus Map
(The 90, 92, and X3 are the closest busses to Gallaudet. For more information and schedules visit www.wmata.com)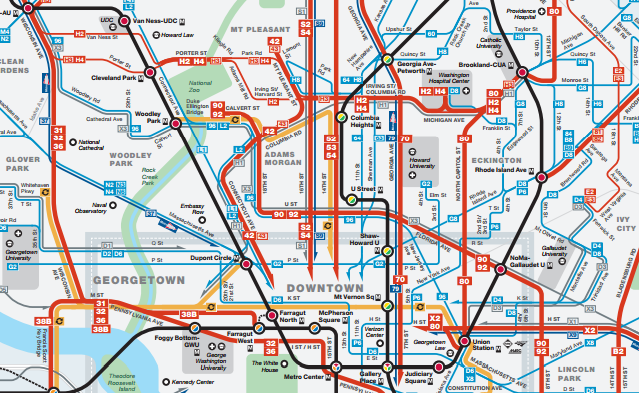 Other Means of transport
Capital Bikeshare - With locations all over the city including on Gallaudet's campus this is a convenient way of getting around the city (when the weather is nice).
Circulator Bus - A private but cheap bus line that runs to all the major tourist hotspots and more.
Car2Go, ZipCar - Car sharing companies that allow rentals for short periods of time at good rates.